How to Conduct Surveys with CloodOn LMS?
Written by Shalini Saxena on 15 September 2017
Want to collect valuable feedback from your learners? CloodOn LMS has an inbuilt Survey Tool to help you do that! Create surveys and get feedback from your learners about your courses/training programs. It is extremely easy-to-use yet gives you the power to build as complex surveys as you may need to contemplate how your learners find your training/courses. With custom title, description and questions you can create fully customized surveys based on your requirements.
Here's how you can create a survey using CloodOn:
Step 1: Go to admin tab
Under Admin the second section 'Manage' has the 'Survey' tool, as shown below.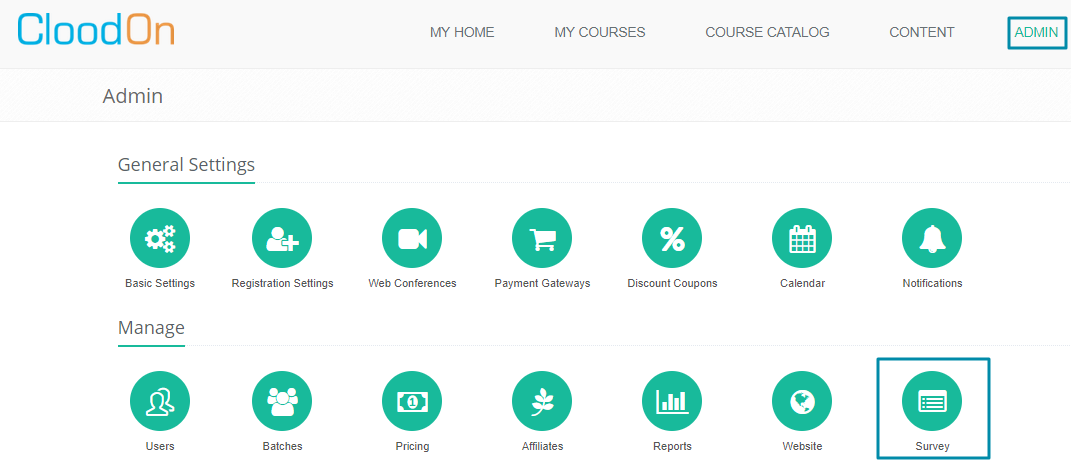 Step 2: Create a Survey
2.1. By clicking on Survey you'll be prompted to create a Survey:

2.2. Click on create survey and the following screen will appear: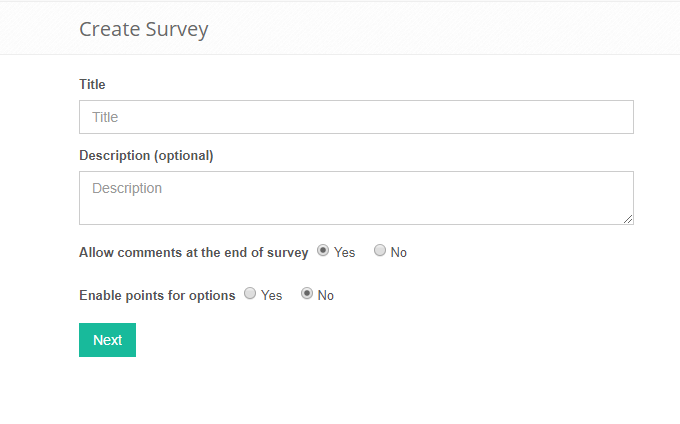 2.3. Fill up the following fields:
Title - The heading which will appear at the top of the survey
Description - A short description describing what the survey is about, its purpose and a request stating 'please take the survey'.
Comments - You may allow comment at the end of the survey, this let's the respondent include any additional remarks/views that he/she might like to convey.
Points - You may assign values/scores to all the options included in a question by enabling points for options.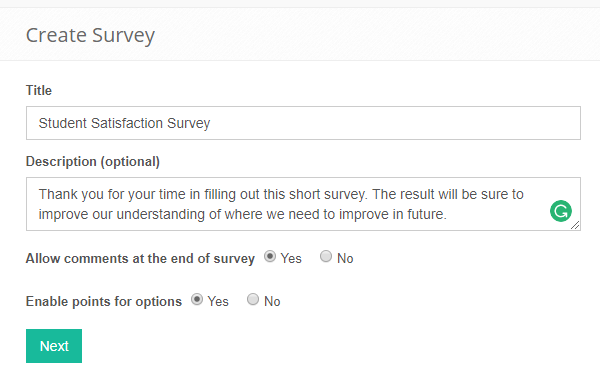 2.4. As you click next 'Add question' button will appear under Questions.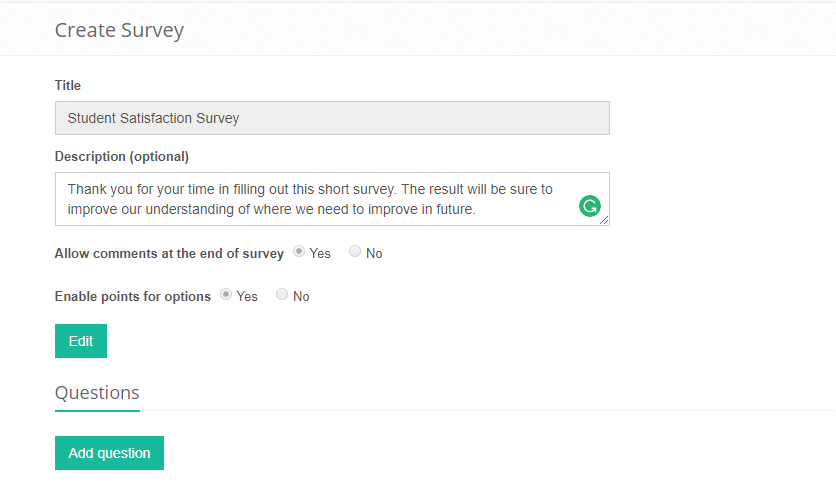 Step 3: Add questions
3.1. Add as many questions as you need. Choose from Multiple choice or short answer question.
3.2. Include the question and desired options. Assign a score based on the context, here the score is assigned in decreasing from good to bad experience.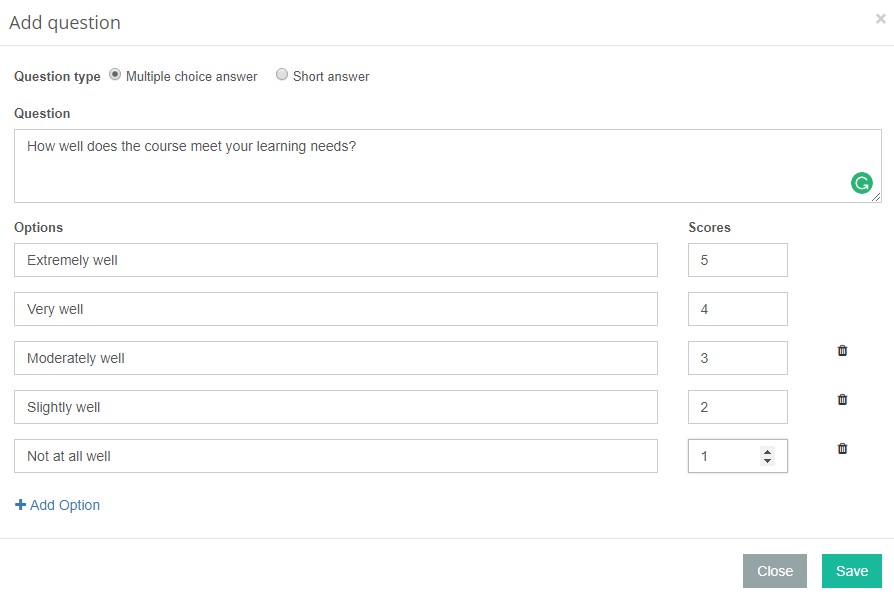 3.3. Shown below is a survey with 4 questions. You may drag and drop the questions to reorder.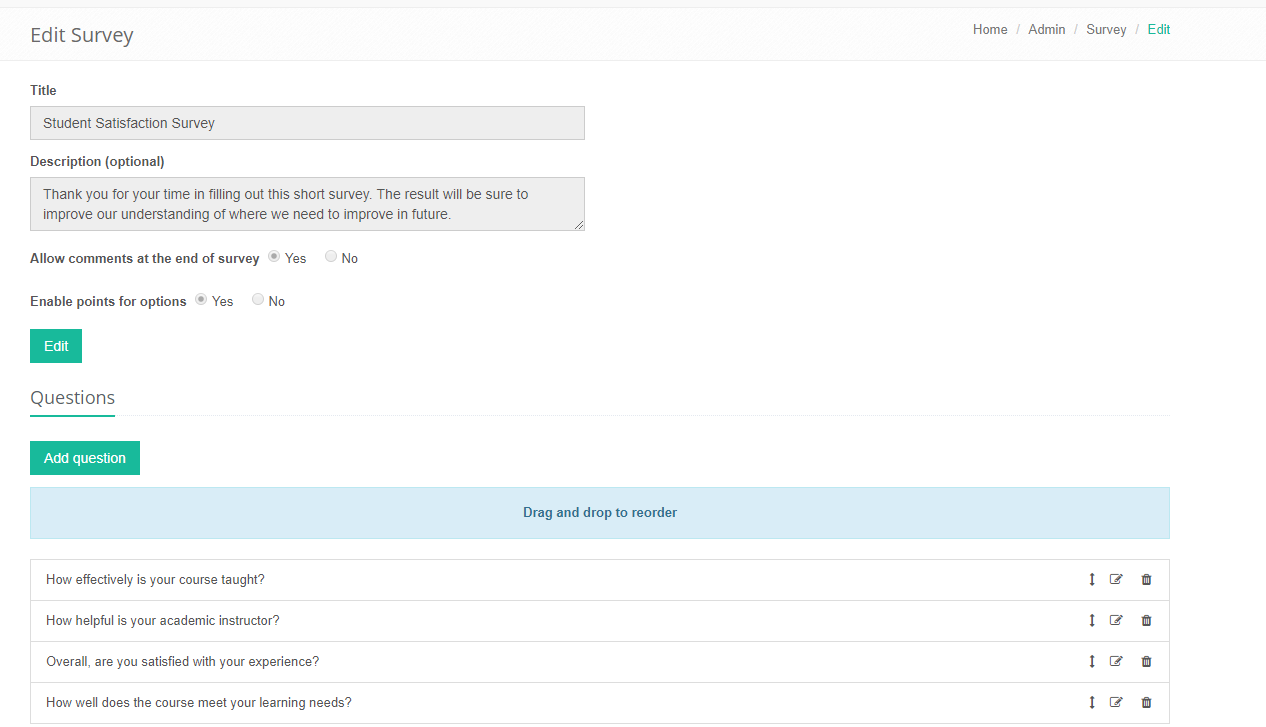 Step 4: Invite users to take the Survey
4.1. Once you are done creating the Survey, go back to the the main Survey Tab your survey will be shown. Click on Invite to add users you'd like to request to take the Survey.

4.5. To invite a new user:
Select the Survey you want to send.

Enter comma-separated email list.

You may customize the Email body i.e. the message you want to your users. Just ensure that '[survey_link]' is a part of your message (this includes a clickable link automatically).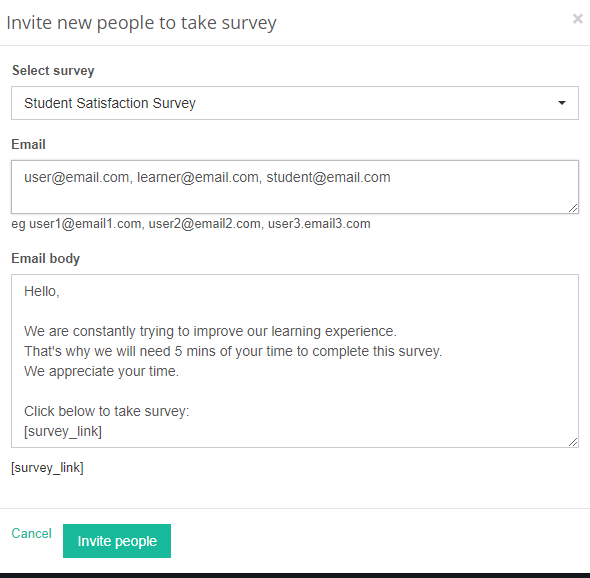 Similarly, you can also ask existing people from your learner's database to fill up the survey.
Step 5: View the reports
5.1. Click on the bar-graph icon to view the Survey Report.
5.2. Based on user-responses the survey reports will be displayed as shown.
Isn't it helpful to have a survey tool for analyzing what your learners feel about your course/training. Now that you know how to use the surveys with CloodOn, go on and try it out!